Articles
ICYMI: 2014 Celebrity Halloween Costumes
By |
The creative juices flowed through everyone's minds this halloween, especially the celebrities we love!
From unicorns, to Flaming Hot Cheetos, The Mario Brothers, and so much more, YOUR favorite celebrities pulled out all the stops this year! Here is some of our favorites.
Neil Patrick Harris and Family: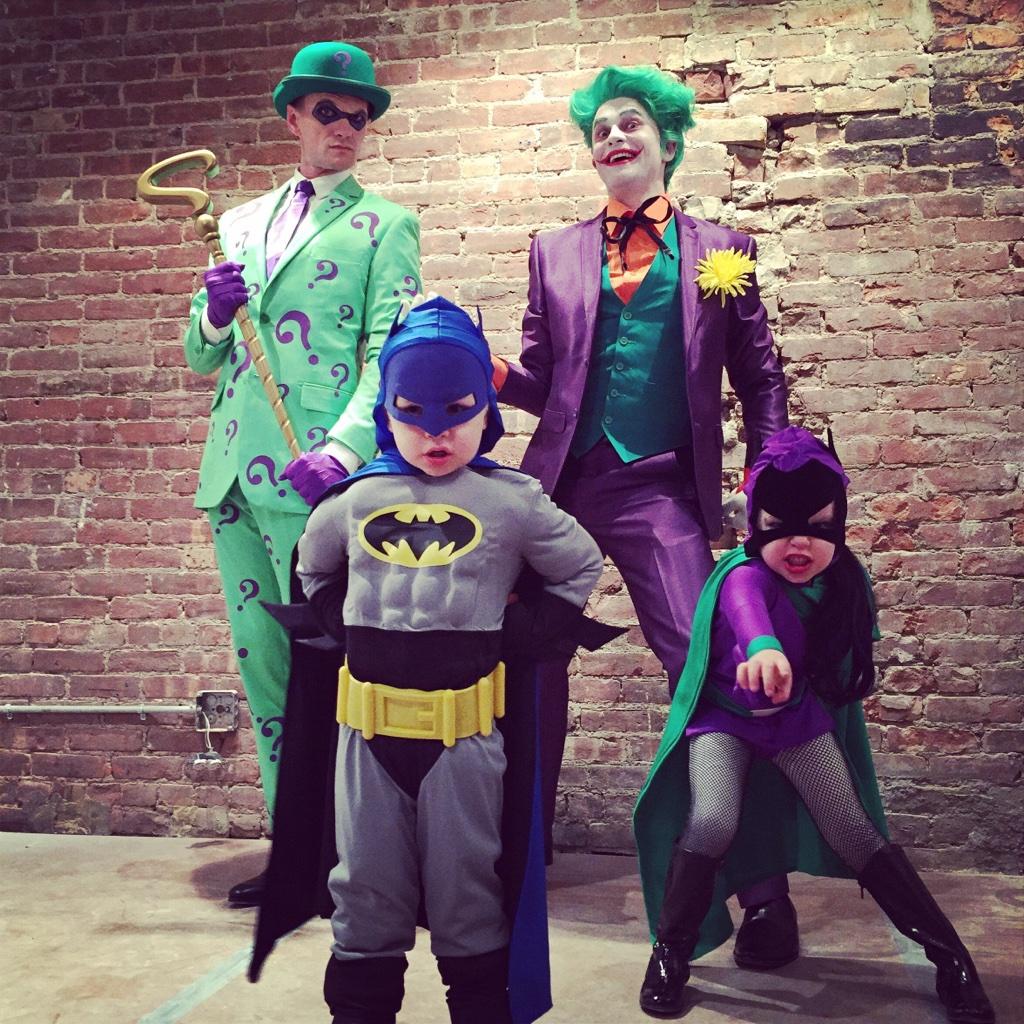 NPH and company took their batman love to a whole new level by not only incorporating the entire family, but by allowing their children, twins Gideon Scott and Harper Grace,  to be the superheroes, and the adults, Neil and his partner David Burtka be the villains.
Katy Perry:
Katy as a Flaming Hot Cheeto is one of the best things we've ever seen. We know she likes to dress in candy and sweets, but this is a cute little change to her normal get up! Maybe she's giving us a sneak peak into her new tour costumes!? (probably not)
Colton Haynes:
Known for his roles in Teen Wolf and Arrow, Haynes has been known to show his more serious side. But, if you follow this guy on twitter or instagram, (both are @coltonlhaynes), he is ANYTHING but serious, as you can see from his Princess Fiona get up.
Taylor Swift:
http://instagram.com/p/u1c3FmjvA_/?modal=true
Tay tay spent the entire week doing press and promo for her newly released album 1989. But, that didn't stop her from getting into the halloween spirit. Swifty showed up at the Elvis Duran morning show dressed up as a unicorn. We love the way you think T-Swizzle.
Luke Hemmings and Calum Hood from 5 Seconds of Summer:
As if they don't get enough attention, the bromance of Calum and Luke was in FULL swing during Halloween. Shown here in a picture with some of their buddies, the boys decided to channel their inner video gamer and dress up as Mario and Luigi.
Lucy Hale:
The 'Pretty Little Lairs' star dressed up as her take on what twitter would look like if it were a real person. We LOVE the blue hair Lucy!
The Maine:
If you have followed The Maine's career, you know these guys NEVER disappoint when it comes to dressing up for halloween, and this year is no exception.
Demi Lovato, Jennifer Lopez and Iggy Azalea:
Me, @ddlovato and @IGGYAZALEA #costumeparty #JLoHalloween pic.twitter.com/8FYrIEdWr0

— Jennifer Lopez (@JLo) November 1, 2014
Demi Lovato as Lucille Ball, JLo as a devil, and Iggy as one of the White Chicks, all partied together! How sick would this collab be?! (Either as themselves, or as their costumes, we'll take either one!)
Adam Lambert:
Honestly, he's probably one of the best looking werewolves i've ever seen. His hair is so full and his eye's are on point!
and last but certainly not least…..
Miley and Brandi Cyrus:
http://instagram.com/p/u2LN_5wzOR/?modal=true
While everyone is still trying to emulate Miley's performance costume from last years VMA's, she decided to take a different route and emulate someone who has had a huge influence on her life personally, her god-mother, Dolly Parton. And Brandi Cyrus also took another route, channeling her inner 'Clueless' and matched Cher to the tee!
Maybe this will give you some inspiration for next year?! I mean come on, you only have 363 days left to decide!
http://instagram.com/p/u2klX5OKjZ/?modal=true