Articles
ICYMI: 2014 American Music Award Performances Review
By |
Along with the beautiful dresses, outfits, and people in attendance at this years American Music Awards, the performance line up was something to be excited over. If you missed it, here's how they went down:
Taylor Swift – Blank Space
T-Swizzle opened up the show with a jaw dropping performance of her new single, 'Blank Space', off of her new album '1989'. Taylor didn't disappoint with the theatrics, the beautiful costumes and set changes, and of course, the very attractive male dancers she casted as the lead for each set change. Whether you liked the performance, or Tay Tay herself, you know you've been talking about how 'insane' or 'insanely good' she was.
Charli XCX – 'Boom Clap' and 'Break The Rules'
Charli XCX not only displayed an awesome performance of her two hits along with killer outfit changes, but ended the performance like a true rockstar. With the help of one her dancers, Charli initiated the set deconstruction by slamming a guitar on the stage. After this, her all girl band and dancers started throwing parts of the instruments and set around.
Magic feat. Wyclef Jean – 'Rude'
Wyclef opened the performance with his own little verse that led into the introduction of the hit song 'Rude'. By adding Wyclef to the mix, an authentic reggae vibe was felt throughout to the performance!
5 Seconds of Summer – 'What I Like About You'
With their American fan base growing every single day, it was a no brainer to ask 5 Seconds of Summer, or 5SOS as their fans call them, to perform at this years AMA's. Covering the hit originally sang by The Romantics, you could tell by their constant head bobbing, fun little jumps, and adding their own vocal twists to the song, the band had definitely become more confident since their first award show performance back in May.
Imagine Dragons – 'I Bet My Life'
Before winning the award for favorite alternative rock artist for the second year in a row, the guys from Imagine Dragons performed their new single 'I Bet My Life' live for the first time on network television. The performance included drums, a 15-person choir, and lots of light changes.
Sam Smith feat. A$AP Rocky – 'I'm Not The Only One'
I don't think anyone can deny the fact that Sam Smith has one of the most angelic voices in music today. Not only does his voice reel you in, but the lyrics he sings are so relatable and believable. A$AP Rocky and Sam are a pair that not many people picture collaborating, but for some reason, it just works.
Iggy Azalea, feat. Charli XCX and J-Lo Feat Iggy – 'Fancy', 'Beg For It' and 'Booty'
Okay, so Iggy is officially one of the coolest girls in the world. Not only did she walk away with two AMA's, but she performed not once, not twice, but THREE TIMES. Although we were hoping for a 'Black Widow' performance, we were completely thrilled to see her take the stage with Charli to sing 'Fancy', with J-Low to sing 'Booty'
Lorde – 'Yellow Flicker Beat'
Although some would call it "strange" as she started out in a big white box, Lorde's performance was definitely one of the highlights of the night. Not only is she extremely talented, but she knows how to gain the crowds attention in her own way.
Ariana Grande feat. The Weeknd, 'Problem', 'Break Free', and 'Love Me Harder'
Ariana started the performance off strong with jazzy versions of her two biggest hits, 'Problem' and 'Break Free'. The Weeknd then joined her onstage for her newest single 'Love Me Harder', which seems to be doing amazing on the charts.
Pitbull – 'Don't Stop The Party','Fireball', and 'Time of Our Lives'
Of course, it wouldn't be an award show without some type of performance from the host himself — Pitbull. We give him triple thumbs up for his performances, one including Neyo, and all including his famous tux and beautiful dancers, and continue to applaud his incredible summer anthems we all have a love/hate relationship with.
Selena Gomez – 'The Heart Wants What it Wants'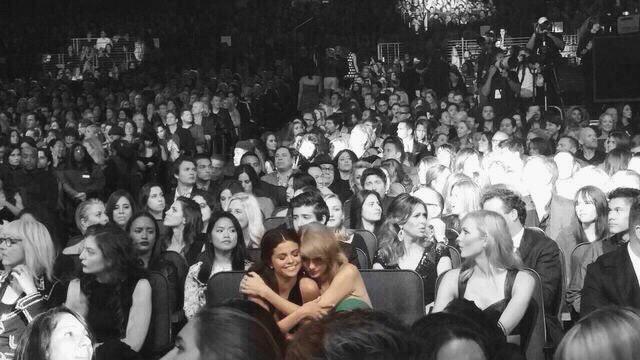 Selena's emotional performance, which featured her, a backdrop with angel wings, and a shadowy figure leaning up agains what seemed like a window, was so moving, that it brought even her best friend, Taylor Swift to tears. The song which is speculated to be about her relationship with Justin Bieber, has hit written all over it. Taylor posted this picture of her and Selena earlier today on her twitter with the caption, "The rest of the world was black and white, but we were screaming in color."
One Direction – 'Night Changes'
Almost one week after their album 'FOUR' released, 1D not only won three AMA's, but they also performed their newest single 'Night Changes' for the world to swoon over. There was definitely a collective sigh heard from every where once the boys started singing. Regardless of what people say, I don't think they are going anywhere any time soon.
Nicki Minaj feat Skylar Grey – 'Bed of Lies' and Lil Wayne feat. Christina Milian – 'Start A Fire'
Although both performances didn't get much recognition or feedback, we do want to give a shout out to all artists for debuting these songs on network television! and hey! Christina Milian is BACK!
Fergie feat. YG – 'LA Love (La La)'
Did anyone else feel fergalicious and/or glamourous during Fergie's performance? Because I did, and even after a little hiatus, that girl has still got it! And I mean come on, who better than to introduce her back into the world than her gorgeous husband Josh Duhmel?
Garth Brooks – 'People Loving People'
Alright, so all of these performances are great. But, by the time Garth came on the question started to linger… WHY WASN'T THERE MORE COUNTRY PERFORMANCES?! Thank goodness for Garth, and his classic country boy charm, because it wouldn't have been the same without a little dose of country music!
Mary J. Blige – "Therapy"
In typical Mary J. fashion, all she had to do was stand there with a microphone, a piano behind her, and wow the crowd with her powerful vocal abilities. Well done, definitely one of the nights favorite performances.
Jessie J, Ariana Grande, and Nicki Minaj – 'Bang Bang'
All smiles were presented after the best performance of the night. There is nothing like some power house vocals paired with some other power house vocals to bring the house DOWN. AND add in Ms. Minaj, you definitely have yourself one memorable performance.